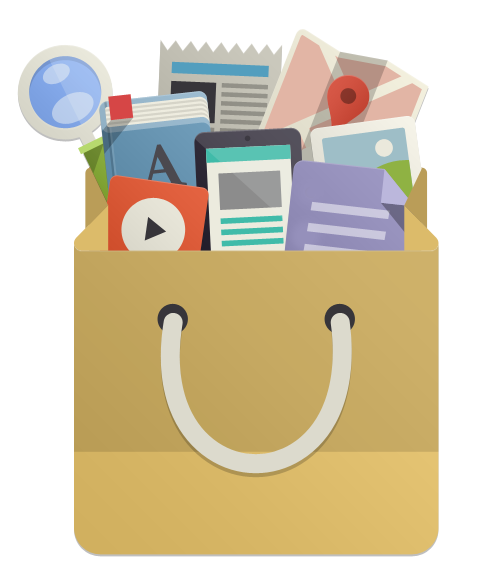 When I code, I love simply copying and pasting from an example website or someone's open source code. Most of my projects begin as a collage of different code samples that are gradually tuned to my goal. That copy/paste ethos informed my latest work in progress, the Faculty Toolbox.
What's inside?
The Faculty Toolbox is a goody bag for John Jay faculty who teach online. Inside, there are special library modules they can drag & drop into a course shell; simple instructions for embedding streaming videos; a proxied link generator; and basic info about library liaisons and how I, the Emerging Technologies & Distance Services Librarian, can support online teaching.
It's a little thing, but it's a big thing. The Toolbox has been a conversation piece in multiple meetings I've been in, and whenever I unveil it, there's definitely an 'ooh!' response to seeing a collection of useful resources prepackaged and offered on a single page. It's not just a toolbox; it's a gateway.
Goody bag + cave of wonders
The terminology I use is important. "Toolbox," "goody bag," "starter kit" — these are all phrases that call to mind a plethora of shiny items without being overbearing. There's no "template" or even "guide" happening here; this is a partnership between the library and faculty, rather than a service or directive. And phrases like "generator" or "drag and drop" are derived from exciting action verbs that imply quickness and ease.
That intentional terminology is a response to one barrier to using library resources in online classes. It's not that it's difficult, per se, but it's a bummer to have to scurry all over the library website(s) to gather teaching materials for students. By all means, that's part of creating course curricula — but the simpler things, like linking to APA/MLA citation guides, should be easy as pie, and we make it so.
Lastly, the Toolbox can be a Cave of Wonders, too. So many faculty haven't realized the richness of our streaming video collections. When I show it to them (or when they glance at the sample videos I linked to), a whole new world of engaging course content opens up.
Placement & promotion
The Faculty Toolbox is linked from our Faculty Resources list, where they can also find important information about citation metrics and purchase requests. It's also linked from the John Jay Online faculty resources page, and it's been emailed to all JJO instructors, too. And in the fall, I'll be showing it off right and left at a number of workshops in different contexts — Faculty Development Day, Blackboard training workshops, and more.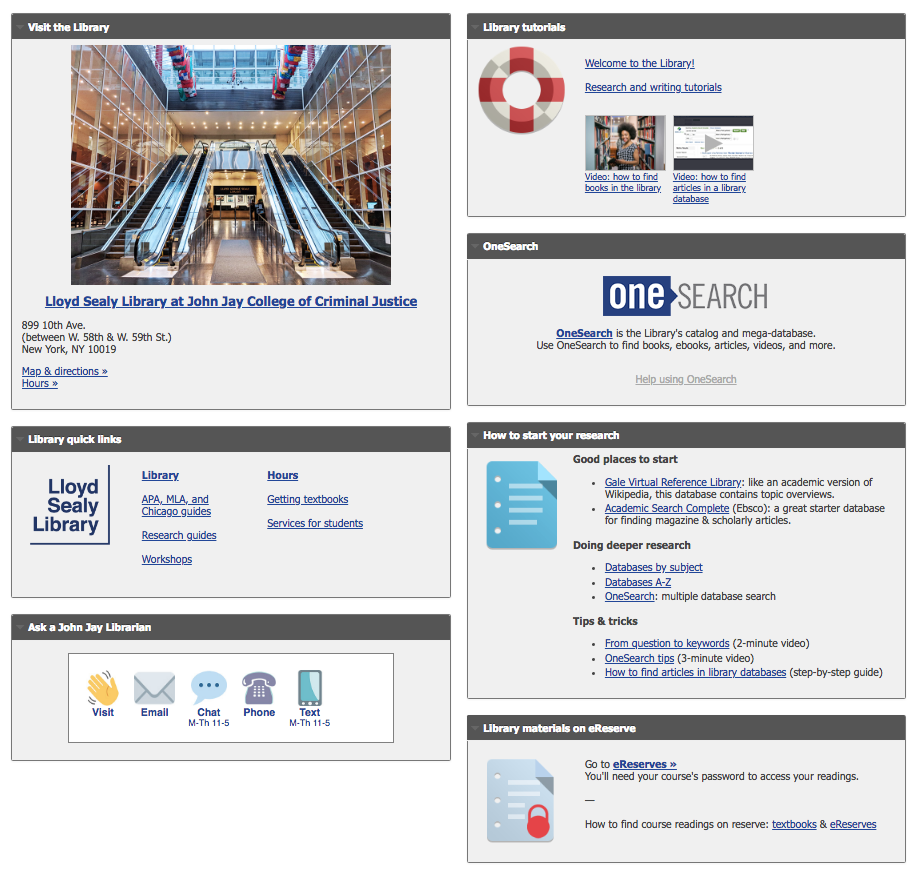 Our Toolbox was inspired by the one at FIT, which was created by Helen Lane. She mentioned this at an ACRL/NY Distance Ed SIG last year, and it's an excellent example. Take a look — she makes it so easy to embed many things.
What else would be appropriate to include in the Toolbox?